The Jubilee Church Chair from ComforTek Seating has been introduced to the church market for those churches needing a quality worship chair at the lowest price.  The reality is that over the past few years, there have been many cheap church chairs imported and advertised as costing less than thirty dollars each.  Such an enticing price has resulted in a lot of chairs being purchased by churches that have not held up well.
The introduction of the Jubilee Church Chair now provides a $30 church chair that actually possesses quality.  The Jubilee Church Chair has a 3/8″ plywood back and seat, standard lumbar support, chair ganging is also standard, the steel frame has 1″ legs and 3/4″ back and this chair comes with a true warranty.  Also the Jubilee Church Chair ships as a fully assembled chair.  The Jubilee is intended to provide a quality alternative for churches starting up or needing to be especially price-conscious.  We are currently stocking the Jubilee Church Chair in six fabrics including the dark blue pictured.  For your information, the other five are a charcoal, a maroon, a tan and an espresso and NOW A PURPLE!  Shipping costs will vary based on your church's location.  And as with our other chairs, the Jubilee Church Chair can also be picked up at our warehouses to save even more!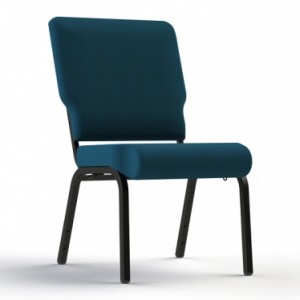 Dark Blue Jubilee Church Chair Pictured – Purple Now Available!
$30 PRICE FOR PURPLE JUBILEE CHURCH CHAIRS!


CALL (419) 469-6411 FOR DETAILS AND TO ORDER.
(Minimum Quantity is 100)
WHY NO ONLINE ORDERING? In today's world of eCommerce, contacting us may seem a bit unusual or even counter-intuitive. After all, we're all used to clicking-our-way to savings. However due to advertising policies and manufacturer requirements, online retailers often cannot offer the lowest price on furnishings.
We however will always offer you the lowest price without any haggling, price matching gimmicks, or bait-and-switch offers. So, taking a moment to contact us will equal significant savings for your church, school, or business.
---