Save your church money on this drop-in toddler table available in various colors.  The table dimensions are 48" X 72" X 1 1/8" and it holds six cuties between 5 – 24 months of age – up to 30lbs each.  We offer an unbeatable price on these toddler tables which are both safe and sturdy and will make the perfect addition to your church nursery.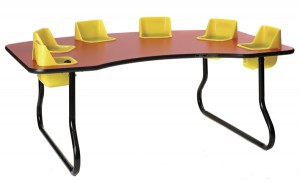 OUR ADVERTISED PRICE:
$399.00
(Many Toddler Table Options Available.  Please Call for More Information.)

CONTACT US AND SAVE MONEY
CALL 419-469-6411 OR USE THE FORM BELOW

WHY NO ONLINE ORDERING?   In today's world of eCommerce, contacting us may seem a bit unusual or even counter-intuitive.  After all, we're all used to clicking-our-way to savings.  However due to advertising policies and manufacturer requirements, online retailers often cannot offer the lowest price on furnishings.
We however will always offer you the lowest price without any haggling, price matching gimmicks, or bait-and-switch offers.  So, taking a moment to contact us will equal significant savings for your church, school, or business.