Make learning fun with the Alphabetical Item Play Panel Set!  Three brightly colored panels connect together panel as the set boldly displays the first three letters (A-B-C) of the alphabet with a graphical representation of each letter.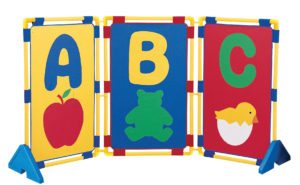 (CF900-351) – LOWEST PRICE ANYWHERE!
CALL 419-469-6411 FOR SPECIAL DISCOUNT PRICING AND TO ORDER
(Save on all products from The Children's Factory!)

At Church Furniture Partner, our ministry is to provide churches and schools with all their classroom furniture needs for less dollars than they will find anywhere else.  We carry the entire line of The Children's Factory products at the lowest possible price.  Please contact us for the best price on this and other items from The Children's Factory.  We would love to assist your church, school, or daycare in saving dollars!