Store your diapers and wipes safely out of reach of the little ones with the Steffy Wood wall mounted diaper storage unit.  The SWP1106 diaper station will hold all your supplies while keeping your church nursery changing area clutter free.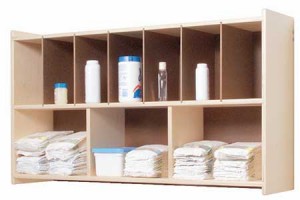 Saving Churches money on furnishings is our personal ministry. We're here to serve your Church and we hope you will privilege us with that opportunity.

– George Kreger, Founder of Church Furniture Partner
Pastor of New Hope Community Church
ONLY $289.95 ON SALE THIS MONTH.
CALL 419-469-6411 FOR DETAILS AND TO ORDER.
(Size: 23″H X 40″W X 10″D.   Call Us for More Information.)

Pastor owned and operated, Church Furniture Partner understands the needs of Churches and is ready to provide the right furniture for your Church.  We sell changing tables, storage cabinets, and other church nursery furniture at the lowest price anywhere.  Give us a call at 419-469-6411 or fill out the form below and one of our staff will contact you to assist with the storage needs of your Church.   Don't worry, we do not use any high-pressured sales tactics.