This affordable podium-style lectern from Imperial has an open back with storage shelf!  The lectern is crafted from wood (red oak) and is ready for your sanctuary.  Available in three wood finishes and with option Cross panel.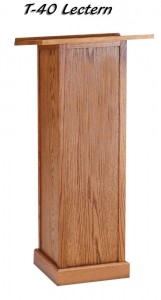 Saving Churches money on furnishings is our personal ministry. We're here to serve your Church and we hope you will privilege us with that opportunity.

– George Kreger, Founder of Church Furniture Partner
Pastor of New Hope Community Church
A FULL PEDESTAL LECTERN FOR ONLY $275.00.
CALL 419-469-6411 FOR DETAILS AND TO ORDER.
(Podium?  Lectern?  We're Ready to Answer Your Questions.  Contact Us.)

Pastor owned and operated, Church Furniture Partner understands the needs of Churches and is ready to help you find the best lectern for your Church while staying within your budget.  We sell several models of budget friendly lecterns in both wood and acrylic.  Give us a call at 419-469-6411 or fill out the form below and one of our staff will contact you to assist with finding the right furniture for your Church.   Don't worry, we do not use any high-pressured sales tactics.