Save money on this 5'5″ x 7'8″ faith based carpet featuring Mark 10:14 from Carpets for Kids.  A colorful, kid-ready play mat rug for any Church preschool.  Made with only safe, high-quality materials, we offer an unbeatable price on this and other faith based rugs for your Church.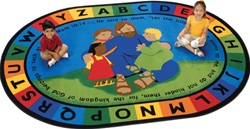 Saving Churches money on furnishings is our personal ministry. We're here to serve your Church and we hope you will privilege us with that opportunity.

– George Kreger, Founder of Church Furniture Partner
Pastor of New Hope Community Church
OUR BASE PRICE IS $212.
CALL 419-469-6411 FOR DETAILS & TO ORDER.
(Other Sizes Available.  Call Us; Your Church May Qualify for a Better Price.)

Pastor owned and operated, Church Furniture Partner understands the needs of Churches and is ready to help your Church save on all furniture, including faith based rugs.  We carry the full line of Carpets for Kids faith based rugs at discount price for Churches. Give us a call at 419-469-6411 or fill out the form below and one of our staff will contact you to assist with the furniture needs of your Church.   Don't worry, we do not use any high-pressured sales tactics.