Features generous shelf space at a youngster's height. Each section is 48″ wide x 15″ deep x 29.5″ high. Opens to a full eight feet.  Hardboard Back is standard with back options available. The 0292JC features a lifetime warranty as well as multiple kid-friendly safety features.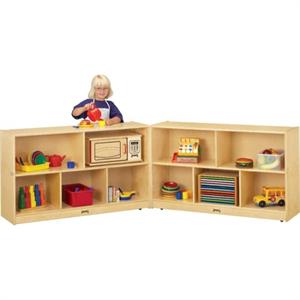 (0292JC) ON SALE FOR $425.00
CALL 419-469-6411 FOR LATEST PRICING AND TO ORDER
(Prices Subject to Change.  All Jonti-Craft Furniture is on Sale.)

At Church Furniture Partner, our ministry is to provide churches and schools with all their classroom furniture needs for less dollars than they will find anywhere else.  We carry the entire line of Jonti-Craft Classroom & Nursery Furniture at the lowest possible price.  Please contact us for the best price on this and other Jonti-Craft furniture.  We would love to assist your church, school, or daycare in saving dollars!