The NPS-201 Beige steel folding chair sits on a powder coated steel frame with an electromagnetically welded seat back.  Two U-shaped double riveted cross braces along with a 18-gauge 7/8" round tubular frame allow this folding chair to hold a whopping 480lbs!  We carry the NPS 200 series chair in a variety of colors.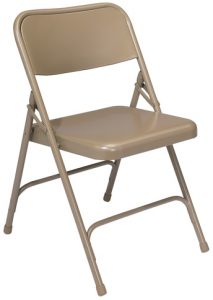 OUR ADVERTISED PRICE:
$17.16
(All National Public Seating 200 Series Folding Chairs on Sale)

CONTACT US AND SAVE MONEY
CALL 419-469-6411 OR USE THE FORM BELOW

WHY NO ONLINE ORDERING?   In today's world of eCommerce, contacting us may seem a bit unusual or even counter-intuitive.  After all, we're all used to clicking-our-way to savings.  However due to advertising policies and manufacturer requirements, online retailers often cannot offer the lowest price on furnishings.
We however will always offer you the lowest price without any haggling, price matching gimmicks, or bait-and-switch offers.  So, taking a moment to contact us will equal significant savings for your church, school, or business.