We're offering a church chair special savings right now on our Dark Blue AW-05 Worship Chair. The frame finish on this chair is a combination of black and silver. We are now producing this chair in such high volume numbers that our prices can be even lower for our church customers. Here is a high quality church chair at entry level church chair prices. For churches that means that for a period of time, you are going to pay the price per chair normally associated with orders of 500 or more chairs, even if your order is as small as 50 chairs. And as an added bonus, we are going to add a free fabric card pocket to each and every chair at absolutely no cost to your church. We do need to mention that while we make ongoing efforts to always have this chair plentifully in stock, we have seen large orders lower those stock levels temporarily at times. And we also want you to be aware that if your location is near one of our warehouses, we are fine with you picking up your own chairs to experience NO shipping charges. We want to save your church money!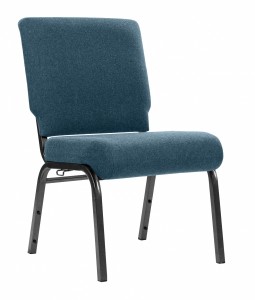 Saving Churches money on furnishings is our personal ministry. We're here to serve your Church and we hope you will privilege us with that opportunity.

– George Kreger, Founder of Church Furniture Partner
Long-time Pastor of New Hope Community Church
SPECIAL $62.90 PRICE FOR SS-7701 WORSHIP CHAIRS!
CALL 419-469-6411 FOR DETAILS AND TO ORDER.
(Please Note: Minimum Quantity is now 50)

Pastor owned and operated, Church Furniture Partner understands the needs of Churches and has a passion for providing quality chairs and unbeatable service at the best price anywhere. Our price on the ComforTek Seating SS-7701 is the lowest anywhere. Give us a call at 419-469-6411 or fill out the form below and one of our staff will contact you to assist with the seating needs of your Church. Don't worry, we do not use any high-pressured sales tactics.