The Series 400 of Contemporary Acrylic Lecterns from Oklahoma Sound Corporation are made of 1/2″ and 3/8″ acrylic plexiglass are available for quick shipment in three distinct styles.  Choose from the 401S Clear Acrylic Podium as shown, or the 471 Clear Acrylic Curved Podium, or the 410 Clear Acrylic "V" Style Podium.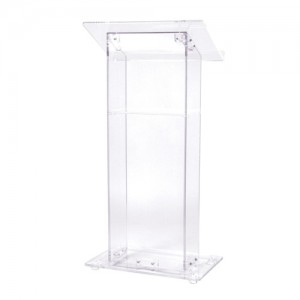 Saving Churches money on furnishings is our personal ministry. We're here to serve your Church and we hope you will privilege us with that opportunity.

– George Kreger, Founder of Church Furniture Partner
Pastor of New Hope Community Church
THE 401S ACRYLIC PODIUM / LECTERN IS AVAILABLE FOR JUST $449!
CALL 419-469-6411 FOR DETAILS AND TO ORDER.
(We have all Oklahoma Sound Corporation Lecterns & Podiums at the Best Prices Nationally!)

Pastor owned and operated, Church Furniture Partner understands the furniture needs of Churches.  Our price on the 400 Series of Acrylic Lecterns from Oklahoma Sound Corporation is the lowest anywhere.  Give us a call at 419-469-6411 or fill out the form below and one of our staff will contact you to assist with the furniture needs of your Church.  Don't worry, we do not use any high-pressured sales tactics.