We've added the Model 52 Metal Folding Chair to our discounted seating at Church Furniture Partner.  The Series 50 is an entry level folding chair collection from National Public Seating that allows for a superb price while still providing a solid chair.  The Series 50 actually comes with a 10 year warranty, something rarely found for a metal folding chair at this great price.  The Model 52 is our gray selection in the 50 Series.  Please know though we do offer additional finishes and selections at similar savings.  These include that Beige Model 51, the Blue Charcoal Model 54, and even the Black Model 510.  From a construction standpoint, all these models utilize 19 gauge steel for thick tubular chair frames.  A 2.5″ strengthening for the frame is then added.  We finish this chair off by powder-coating the frame, using critical U-shaped cross braces versus straight braces so we can double rivet these.  The Series 50 also comes with a waterfall seat front, and with nylon glides and V-Tip plugs for no extra charge!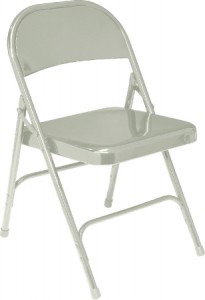 SPECIAL $14.97 EACH
CALL 419-469-6411 FOR DETAILS AND TO ORDER.
(Limited Time Offer on NPS Model 50 Series Metal Folding Chairs)

At Church Furniture Partner, our ministry is to provide churches with all their needed church furnishings for less dollars than they will find anywhere else.  We now have 210 plus manufacturers who assist us in that ministry.  One of our slogans is "Everything for your church but the people."  Our delivered pricing on the NPS Model 52 Metal Grey Folding Chair from the 50 Series is the best we know of by far.  We would love to assist your church in saving dollars on folding chairs and any other church furniture needs!