Meet the WB1727 Convertible Desk from Whitney Brothers® – 2017 Best of Year Honoree Award winner from Interior Design magazine!
This amazing desk converts from sitting height to standing height easily and without tools to promote healthy posturing while learning.   The surface height of the desk is adjustable from 22″ to 29.5″ in 1.25″ increments.  Durable birch plywood construction and safe, non-toxic natural UV finish.  This desk won't yellow over time and withstands years of use and abuse by little ones.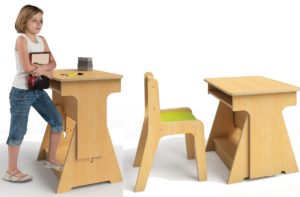 OUR ADVERTISED PRICE:
$229.00
(Whitney Brothers WB1727 Desk – 2017 Award Winner in Stock.)

CONTACT US AND SAVE MONEY
CALL 419-469-6411 OR USE THE FORM BELOW

WHY NO ONLINE ORDERING?   In today's world of eCommerce, contacting us may seem a bit unusual or even counter-intuitive.  After all, we're all used to clicking-our-way to savings.  However due to advertising policies and manufacturer requirements, online retailers often cannot offer the lowest price on furnishings.
We however will always offer you the lowest price without any haggling, price matching gimmicks, or bait-and-switch offers.  So, taking a moment to contact us will equal significant savings for your church, school, or business.