The Acton Stacker Chair from PS Furniture is a timeless chair!  PS Furniture invites you to"Sit Like You've Never Sat Before!" with the Acton Stacker.  It is an amazingly comfortable chair excelling in lower back support.  Long a staple of the healthcare and educational markets, more and more churches – like Elevation Church (Pastor Steven Furtick) – are realizing the advantages of utilizing the Acton Stacker in various environments, including for worship. 

Over recent years we have received many contacts regarding the Acton Stacker as one mega-church, Elevation Church of Charlotte, NC, features the Acton at several of their campuses.  As special conferences and events are held at Elevation throughout the year, attendees from churches across the country enjoy the comfort of the Acton, inquire about where they can obtain it for their church, and we are then blessed to assist these churches. 
The Acton is a sled-base chair that comes in many different configurations such as with arms or without, with upholstery or without, with ganging/interconnection or without, and the list goes on.  The Acton also stacks efficiently on quality dollys for compact storage if needed.  There are a wealth of frame finish choices, poly shell selections, and graded-in fabrics which provides the ability to perfectly design an Acton for your church.
The Acton Line is manufactured in Wisconsin and built to order with most orders ready to ship in 6-8 weeks.  We find more and more churches interested in a flexible worship chair that does not look like the chairs you see in most churches, that is very comfortable, of the highest quality, and easily transportable.  The Acton seems to be that chair!
Click here to read the Acton Brochure and learn more about the chairs used at Elevation Church.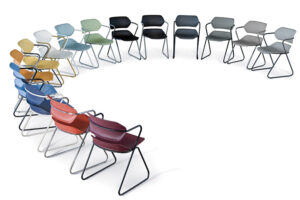 CALL 419-469-6411 FOR DETAILS AND TO ORDER.
(We carry all variations of the Acton Stacker from PS Furniture. Call for custom pricing!)

No hidden fees, no unnecessary high-priced services such as "unpacking" and "set-in-place".  We offer the lowest price on all PS Furniture Acton Chairs, providing special discounting for churches.  Give us a call at 419-469-6411 or fill out the form below and one of our staff will contact you to assist with the seating needs of your church. Don't worry, we do not use any high-pressured sales tactics.