Midwest Folding Products has long produced the CC72 Chair Storage Cart for convenient church storage.  This single level caddy will up to 36 folding chairs in an upright manner readily accessible for usage when needed!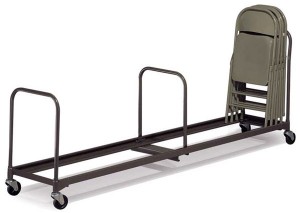 Saving Churches money on furnishings is our personal ministry. We're here to serve your Church and we hope you will privilege us with that opportunity.

– George Kreger, Founder of Church Furniture Partner
Pastor of New Hope Community Church
THE CC72 IS NOW JUST $169!
CALL 419-469-6411 FOR DETAILS AND TO ORDER.
(We Offer Many Models of Chair Cart.  Call Us.)

Pastor owned and operated, Church Furniture Partner understands the needs of Churches and is ready to provide your church with quality furniture and unbeatable service at the best price anywhere.  Let us help your determine the right chair caddies for your church chairs. Give us a call at 419-469-6411 or fill out the form below and one of our staff will contact you to assist with the storage needs of your Church.  Don't worry, we do not use any high-pressured sales tactics.