The Model No 90 Church Chair from Imperial Woodworks
Imperial's wood chairs provide flexible church seating that can be used to fill an entire sanctuary or simply a church choir.  The Model 90 church chairs are stackable wood chairs, and they are also available with wood kneelers and bookracks to serve a wide range of church seating needs.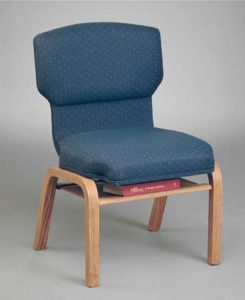 As Low As $229.95 Each
(Save on all Imperial products.  Shipping not included; contact us.)

CONTACT US AND SAVE MONEY
CALL 419-469-6411 OR USE THE FORM BELOW

WHY NO ONLINE ORDERING? In today's world of eCommerce, contacting us may seem a bit unusual or even counter-intuitive. After all, we're all used to clicking-our-way to savings. However due to advertising policies and manufacturer requirements, online retailers often cannot offer the lowest price on furnishings.
We however will always offer you the lowest price without any haggling, price matching gimmicks, or bait-and-switch offers. So, taking a moment to contact us will equal significant savings for your church, school, or business.