The TWP-605 Winged Pulpit (60090) from Imperial
Imperial sanctuary furniture represents the finest quality at very reasonable prices!  From traditional to contemporary, these fine oak pieces are made to order by Imperial Woodworks – and well worth the wait!  The TWP-605 pulpit is done in colonial white with wood accents on the top and base.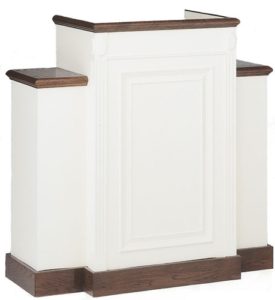 $1649 Each
(Save on all Imperial products.  Contact us for a quote.)

CONTACT US AND SAVE MONEY
CALL 419-469-6411 OR USE THE FORM BELOW

WHY NO ONLINE ORDERING? In today's world of eCommerce, contacting us may seem a bit unusual or even counter-intuitive. After all, we're all used to clicking-our-way to savings. However due to advertising policies and manufacturer requirements, online retailers often cannot offer the lowest price on furnishings.
We however will always offer you the lowest price without any haggling, price matching gimmicks, or bait-and-switch offers. So, taking a moment to contact us will equal significant savings for your church, school, or business.