The NIMA Chair, designed by Giancarlo Piretti is a TRUE Flex Back Chair. There are some chairs that are advertised as possessing a "flex" back. The reality is that often, this is a just an acknowledgement that the frame of that chair is not strong and as a result, as the chair frame "gives" as one leans back against it, there is movement which some then generously describe as "flex".

The NIMA Chair though has a TRUE articulating back mechanism which provides an unparalleled seating comfort. The designer of this chair has written, "It is comfortable. Words are not strong enough – you have to try the chair!" As a result, PS Furniture and Church Furniture Partner have created a subsidized sample chair program so that you organization can do just that — TRY OUT this chair!
The NIMA Chair has a very versatile line offering a plethora of style, finishes and options. The line includes models that stack well, are very flexible, and provide you the ability to configure and then reconfigure your environments as needed. Whether as a Sled Base Chair, a 4 Leg Chair, a 4 Leg Counter Height Height Stool, a 4 Leg Bar Height Stool, a Caster Base Chair or a Caster Base Stool, there is no space the NIMA cannot be manufactured to work perfectly within!
The NIMA Line is manufactured in Wisconsin and is built to order. Most orders are ready to ship in 6-8 weeks. There are 12 available shell colors and five different metal finish option. An of course hundreds of fabric options for those desiring an upholstered version of the NIMA Chair. Try out the NIMA Chair and you will sit like you have never sat before!
NIMA Chair Brochure / Cut Sheet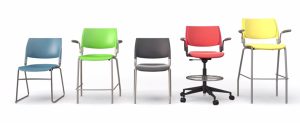 CALL 419-469-6411 FOR DETAILS AND TO ORDER.
(We carry all variations of the NIMA Chair from PS Furniture. Call for custom pricing!)

No hidden fees, no unnecessary high-priced services such as "unpacking" and "set-in-place". We offer the lowest price on all PS Furniture NIMA Chairs, providing special discounting for churches. Give us a call at 419-469-6411 or fill out the form below and one of our staff will contact you to assist with the seating needs of your church. Don't worry, we do not use any high-pressured sales tactics.