We have lowered our prices on the NPS 8510 Black Stack Chair from National Public Seating. This longtime popular chair has a solid steel rod frame which allows these chairs to last and last. Other chairs that may look the same often have a hollow tube instead of solid steel and do not hold up well. The 8505 is just one of the four colors we make the 8500 Series available in. Check out our 8502 Gunmetal Gray, our 8508 Burgundy Wine and our 8505 Navy Blue. And each choice includes chrome finished frames!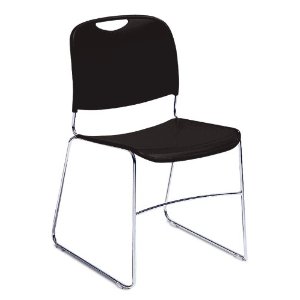 Saving Churches money on furnishings is our personal ministry. We're here to serve your Church and we hope you will privilege us with that opportunity.

– George Kreger, Founder of Church Furniture Partner
Pastor of New Hope Community Church
NPS 8510 BLACK STACK CHAIRS ARE $53.17!
CALL 419-469-6411 FOR DETAILS AND TO ORDER.
(National Public Seating 8510 Black Chair at the Best Price)

Pastor owned and operated, Church Furniture Partner understands the seating needs of Churches and has a passion for providing quality stacking chairs and unbeatable service at the best price anywhere. Our price on the 8510 Stack Chair from National Public Seating is the lowest anywhere. Give us a call at 419-469-6411 or fill out the form below and one of our staff will contact you to assist with the stack chair needs of your Church. Don't worry, we do not use any high-pressured sales tactics.