The Jubilee Church Chair, for a limited time, is priced at $58.90 for quantities of one hundred chairs or greater. The Jubilee Church Chair has been produced for churches desiring a no-frills and yet quality church chair at a below $58.90 per chair price point.
For several years churches, when purchasing a church chair at this price point, have found themselves disappointed with the quality the chair. With the Jubilee Church Chair, you will have a below $58.90 chair that will actually hold up well, serve your church well for many years, and possess a warranty that truly means something.
The Jubilee Church Chair features a plywood back and seat (no particle board). Also the Jubilee incorporates standard chair ganging and lumbar support. The Jubilee Church Chair is fully assembled already when you receive it so you can use them right away. We are currently stocking the Jubilee Church Chair in five fabric choices such as the espresso pictured below. For your benefit, the other four fabrics are dark blue, maroon, tan and charcoal. Shipping expenses will vary based on your location and your quantity of chairs.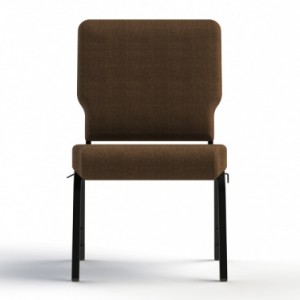 Saving Churches money on furnishings is our personal ministry. We're here to serve your Church and we hope you will privilege us with that opportunity.

– George Kreger, Founder of Church Furniture Partner
Long-time Pastor of New Hope Community Church
$58.90 SALE FOR JUBILEE CHURCH CHAIRS!
CALL (419) 469-6411 FOR DETAILS AND TO ORDER.
(Minimum Quantity is 100 – Available in Espresso & Other Fabrics)

Pastor owned and operated, Church Furniture Partner understands the needs of Churches and has a passion for providing quality chairs and unbeatable service at the best price anywhere. Our price on the Jubilee Church Chair from Comfortek Seating is the lowest anywhere. Give us a call at 419-469-6411 or fill out the form below and one of our staff will contact you to assist with your church chair needs. Don't worry, we do not use any high-pressured sales tactics.