The National Public Seating (NPS) Series 6600 Elephant Z-Stool 6622B provides a great solution for science lab and art room environments, as well as industrial room settings.  This chair is very attractive and yet amazingly strong!

Our Elephant Z-Stools are increasing in popularity across the school market.  Featuring U-Shaped Sled Base Legs, this line is strong, ergonomic, comfortable and quiet.  The Series 6000 is now available in three heights and each can come with or without a backrest.  Check out the entire line: 6618, 6622, 6624, 6618B, 6622B, and 6624B for the perfect fit for your environment.  Packed three to a carton.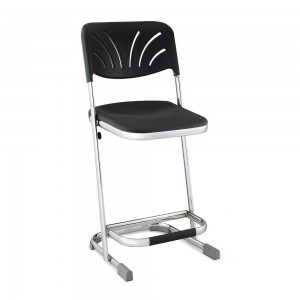 We've been saving churches money for years and are excited to now be blessed with the opportunity to save schools money on furnishings as well.  We're ready to help your school save.

– George Kreger, Founder of Church Furniture Partner
THE 6622B ELEPHANT Z-STOOL NOW AT $99.30!
CALL 419-469-6411 FOR DETAILS AND TO ORDER.
(National Public Seating Series 6000 Stools at the Best Price)

Church Furniture Partner is ready to help schools save money on chairs, desks, tables, storage — all of their other furniture needs.  Please fill out the form below to contact us about this item or give us a call at 419-469-6411 and we will help you find the right furniture for your school at the best possible price.  Don't worry, we are pastor owned and do not use any high-pressure sales tactics.