FANTASTIC OFFER ON NEW CHURCH CHAIRS:
Quality Church Worship Chairs with Card Pockets – $69.90 Each!
(plus shipping in continental USA)
These worship chairs are a perfect fit for any church looking to save money.
We have a significant number of these quality NEW church chairs. Made by Comfortek, these worship chairs are of the highest quality and they are built for comfort. A full 3″ of foam padding is featured on each chair making these church chairs a great replacement for your wooden pews or an upgrade to your current seating.
These church chairs are in PERFECT condition – they are NEW, we are just closing out surplus inventory! They come in several fabric choices, most of which are currently available (view swatches here) though going fast!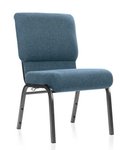 ABOUT THESE CHURCH CHAIRS:
SS-7701 Worship Chair from Comfortek Seating
This beautifully constructed Church Chair spells elegance and comfort for even the largest of guests. With standard features such as lumbar support, ganging connectors, a plush 3″ foam seat and extra-width, the SS-7701 provides guests with more than just a comfortable seat. Other features include a "T-Nut" assembly construction (eliminates premature stripping & loosening of the back), stack-ability and a warranty of 25 years on the frame. Its design width of 20.5″ also allows for great "personal space". Guests feel at ease, as they are not constantly rubbing shoulders with their seat partner.
It's durability and longevity are also features which will reduce future maintenance and repair budgets. So show your congregation that elegance and comfort can go hand-in-hand.
Worship Chair Features
3″ dual-density cushion seat foam

Multiple steel cross members


Constructed using durable T-nut and bolt assembly. No wood to strip!

1″ steel frame construction finished in durable epoxy finish

Lumbar support is standard


Chairs come standard with gang connectors allowing chairs to attach easily to each other!

Waterfall fronts are standard


25-year factory frame guarantee

10-year fabric and foam guarantee
$69.90 EACH FOR A LIMITED TIME!

High Quality NEW Church Chairs – FULLY ASSEMBLED

These Church Worship Chairs Come Fully Assembled and Ready to Use.
Don't be fooled by discount church chairs that must be assembled before using.
For more information or to order these brand new Comfortek SS-7701 church chairs (with card pocket) please call 419-469-6411 or you may use the form below to contact us.