LIMITED TIME OFFER ON BRAND NEW CHURCH CHAIRS:
Fully Assembled Church Worship Chairs for $54.95 Apiece!
(plus shipping costs to continental USA States)
(Price is good on purchase of all 157 of these chairs)
These worship chairs / multi-purpose chairs are a fine option for churches seeking to save money.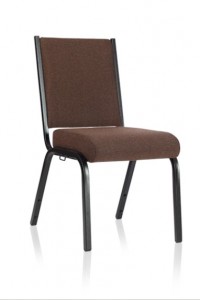 We presently have 157 of this fully assembled worship chair available in a brown fabric that we are looking to sell quickly. These 157 chairs are CTS produced and are characterized by fine quality and significant comfort. A thick three inches of dense foam is standard on each chair meaning these chairs may be a great choice to replace wooden pews or perhaps be an upgrade for aging chairs or even be placed in a secondary environment in your church needing quality seating.

These worship chairs are in A1 condition as they are completely new! This is simply characteristic of special offers we provide from time to time for churches to benefit from. Please know we do have other fabric choices available for an up-charge. As stated, we only have 157 of these chairs available at this price – when they sell they will be GONE!

ABOUT THESE CHURCH CHAIRS:
This handsomely built church chair is one of the best values on the church market today. Coming with standard features like lumbar support, inter-connecting ganging, a healthy 3″ foam seat and even a radius back, this church chair provides your people with a very comfortable seat. This chair also features "Stafast T-Nut" construction which eliminates premature stripping and loosening of the back versus wood screws, stacking ability, and a meaningful warranty of 25 years on the frame. Its design width of 19″ also allows for ample personal space.
Worship Chair Features
3″ high-density rolled front cushion reduces pressure on leg joints that restrict circulation

1″ radius seat back with comfortable bolster lumbar support

Constructed using durable T-nut and bolt assembly. No wood to strip!

1″ steel frame construction finished in durable epoxy finish

Seats 8 comfortably at a 60″ round table

Chairs come standard with ganging connectors allowing chairs to attach easily to each other!

Perfect flexible seating for any church environment

25-year factory frame guarantee

10-year fabric and foam guarantee
$54.95 EACH WHILE THESE CHAIRS LAST!

Great Quality NEW Church Chairs – FULLY ASSEMBLED

Our Church Worship Chairs All Come Fully Assembled and Ready to Use.
Don't be surprised by church chairs that will need to be assembled before using.
For more information or to order these NEW church chairs please call 419-469-6411 or you may use the form below to contact us.