We have dropped the price on our 8115 School Stack Chair in Slate Blue. This is one of our most in demand chairs for schools throughout the country. This is but one choice from the 8100 Line of School Seating from NPS. We consistently find though that this chair is the value leader in its class. Besides strong 17 gauge square tubing this chair also features a single piece anti-static shell. This chair is rated now at over 300 lbs! The 8115 can also stack 12 high and each chair has not one, two three, four or five stacking bumpers but six to keep all finishes well.

The 8115 is part of the 8100 Series of Stack Chairs. Besides the 8115 in Slate Blue, we also keep in stock the 8110 – Black, the 8118 – Burgundy, and the 8125 – Blue. All of the these models will accept our optional tablet arms very easily. Our tablet arms are available in both a RH product TA81R and a LH product TA81L.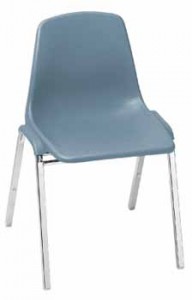 We've been saving churches money for years and are excited to now be blessed with the opportunity to save schools money on furnishings as well. We're ready to help your school save.

– George Kreger, Founder of Church Furniture Partner
THE 8115 SCHOOL CHAIR IS NOW $39.95 EACH!
CALL 419-469-6411 FOR DETAILS AND TO ORDER.
(NPS 8115 Stack Chairs at a Reduced Price)

Church Furniture Partner is ready to help schools save money on chairs, desks, tables, storage — all of their other furniture needs. Please fill out the form below to contact us about this item or give us a call at 419-469-6411 and we will help you find the right chairs for your school at the best possible price. Don't worry, we are pastor owned and do not use any high-pressure sales tactics.