SPECIAL OFFER:
1000 Upgraded Banquet Chairs – DS1215 Designer Fabric for $26.00 each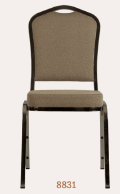 We have placed 1000 of our popular 8831 Banquet Chairs into our fall inventory special at Church Furniture Partner!  This chair features the designer fabric (DS1212 Arete Java), which normally would create a significant up-charge in the price of this chair.  But for the remaining months of 2012, and while supplies last, we're not only discounting the price of this chair, but passing along this designer fabric free of charge!  This chair also features our very attractive Antique Brown frame finish.
Please know this chair is a quality banquet chair with multiple steel cross members, stacking bars, plywood seat and back, no exposed tabs, a handhold for each transport, "T-Nut" construction throughout (no wood screws), and high density foam, all backed by our industry-leading warranty.  There are a lot of banquet chairs available to your church, but here is a quality chair at a entry-level price point!
You can contact us here for more information.  We're excited for the church that will be able to save significant dollars on these chairs!