SPECIAL OFFER:
771 Banquet Chairs for just $23.99 each in Assorted Fabrics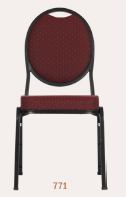 We have great selection of our popular 771 Banquet Chair available in limited quantities at very low clearance pricing!  Please know this chair is a quality banquet chair with multiple steel cross members, stacking bars, plywood seat and back, no exposed tabs, a handhold for each transport, "T-Nut" construction throughout (no wood screws), and high density foam, all backed by our industry-leading warranty.  There are a lot of banquet chairs available to your church, but here's an excellent chair at almost a entry-level price point!
Right now we have quantities of six different fabric/frame combinations included in this special offer.  These include JB37 Diamond Pewter Fabric with Textured Black Frames, JB39 Diamond Black Fabric with Silvervein Frames, JB30 Diamond Blue Fabric with Textured Black Frames, AW101 Mixed Tan Fabric with Antique Brown Frames, JB32 Diamond Red Fabric with Textured Black Frames and also Black Vinyl with Silvervein Frames.  We have a total of about 3,000 chairs available at this point, but they are all first-come/first served!
You can contact us here for more information.  We're excited for the church that will be able to save significant dollars on these chairs!