SPECIAL OFFER:
500 of the CFP-71 Banquet Chair for just $27.00 each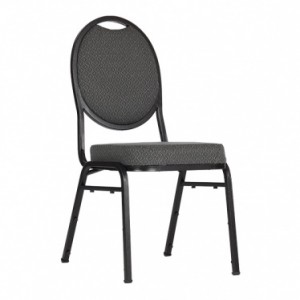 We have a little over 500 of our popular CFP-71 Banquet Chair available while they last at special clearance pricing of just $27.00 each.  These chairs are upholstered in an upgraded premium gray/black fabric with a slight diamond pattern and the frames are a complimentary custom ruffled black.
This chair is a quality banquet chair with multiple steel cross members, two stacking bars, both the seat and back are plywood versus particle board, there are no exposed tabs, a handhold is provided for easy transport, "T-Nut" construction is featured throughout (no wood screws), and high density foam is included.  There are a lot of banquet chairs available to your church, but here's an excellent chair at almost entry-level price point!
Please contact us for more information.  We're excited for the churches that save significant dollars on these chairs!