SPECIAL OFFER:


265 87 Upgraded Worship Chairs – Top Quality for $35/each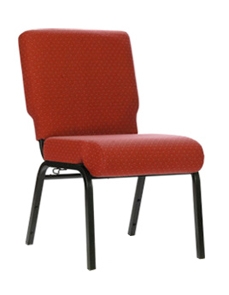 A few months ago a church placed an order for these upgraded worship chairs.  But after we took delivery of the chairs in our warehouse, the church unfortunately had to cancel their order.  While we have sold the majority of these chairs, for the right church, there definitely exists a great bargain!
The SS-7711 from Comfortek Seating already features a fully enclosed fabric back along with several other great features like a waterfall front, "t-nut" assembly, standard ganging connectors, lumbar support, multiple steel cross members, and the best warranty in the industry.  These 265 87 chairs have been additionally upgraded with a Cutaway Back, Cold-Cured Molded foam (an amazing 15 year foam warranty) and a Johnston Textiles Fabric (Old World – Bronze).  The truth is these chairs normally would sell for just over $50 each.  Now though, due to this canceled order, Church Furniture Partner is able to offer them for $35 each.  These chairs carry a full warranty and are "NEW"!  They have simply been warehoused now for several weeks!
SORRY, THESE OUR SOLD OUT!
PLEASE CLICK HERE TO SEE MORE SPECIAL OFFERS