SPECIAL OFFER ON OUR SAFETYCRAFT 1631040 CRIB (EXPIRED!)
(Offer Expired May 31, 2014)
(plus shipping in continental USA)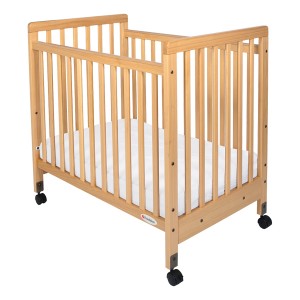 This crib is in stock and available for quick delivery during this limited time offer.
Our Spring 2014 Church Nursery Crib Promo on all Foundations Cribs is a great time to update your nursery or childcare areas to quality Foundations Cribs.  The SafetyCraft 1631040 is always a great value and now during our special sale that is more true than ever.  This compact fixed-side crib comes with an adjustable mattress board and a slatted end with a natural wood finish.  We have these cribs in stock in great supply right now for quick delivery!

Foundations is a recommended church crib manufacturer by Church Furniture Partner.
ABOUT THIS SAFETY-CRAFT CRIB:
Foundations SafetyCraft 1631040 Features

Mortise and Tenon Construction

Mattress Board Adjusts to Two Heights

Non-marking and Quiet Commercial Casters

Heavy Duty 3″ Mattress
Solid Steel Frame Undercarriage
Lower Profile for Easier Access
Available at this Special Price Until May 31, 2014!

These are brand new cribs at a great discount!

For more information or to order this crib, please contact us at Church Furniture Partner.