SPECIAL OFFER ON CHURCH NURSERY PAGING SYSTEM:
One System Available at $535.00!
(plus shipping in continental USA)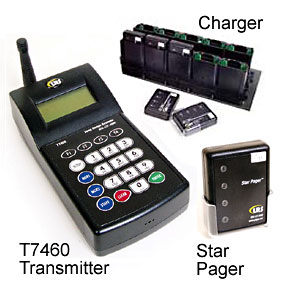 This system is available to a church looking to save dollars on a church nursery pager starter system.
This system was purchased in August of 2013 by a church and is still in the box, but we are letting it go for $535.00 as this church decided not to incorporate it in their setting.  This system includes the transmitter, four pagers and a 10 pager charging unit from Long Range Systems (LRS).  The system is being sold directly through the church.  Use the form link (provided below) and they will contact you.  There is only one of these systems available at this price.
LRS is the recommended church nursery pager manufacturer of Church Furniture Partner.
ABOUT THIS SYSTEM:
Church Nursery Paging System from Long Range Systems

T7460 Freedom Transmitter

Four of the Adverteaser Paddle Pager

Charging Unit for Ten Pager Capacity
Available Immediately Until Sold!

This is a brand new system at a great discount!

For more information or to order this, please contact us at Church Nursery Pagers for Less and in the "Message" area mention that you are interested in the special offer system.