Say Hello to the Mity-Lite SwiftSet Cart-Flat

The SwiftSet storage cart from Mity-Lite holds 45 non-upholstered SwiftSet folding chairs stacked flat on the cart.  The chairs are secured in place by four vertical tubes that are part of the handle set.  The feet of the SwiftSet™ chair interlock with each other, resulting in a secure stack.  A strap is provided to secure the stack to the cart.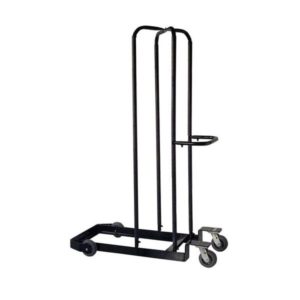 $739 Each
(Contact us for a quote on freight to your location on the SwiftSet Flat Stack Cart.)

CONTACT US AND SAVE MONEY
CALL 419-469-6411 OR USE THE FORM BELOW

WHY NO ONLINE ORDERING?   In today's world of eCommerce, contacting us may seem a bit unusual or even counter-intuitive.  After all, we're all used to clicking-our-way to savings.  However due to advertising policies and manufacturer requirements, online retailers often cannot offer the lowest price on furnishings.
We however will always offer you the lowest price without any haggling, price matching gimmicks, or bait-and-switch offers.  So, taking a moment to contact us will equal significant savings for your church, school, or business.