Our MR-611H Mega-Rak Coat Rack is the six foot version of our popular MR-801H. Holding 72 coats versus 100 coats, for many churches and organizations, the MR-611H is an ideal choice. When closed and folded, this unit needs a very small footprint to be stored in. And if you prefer hooks instead of hangers, check out our MR-801K and MR-611K.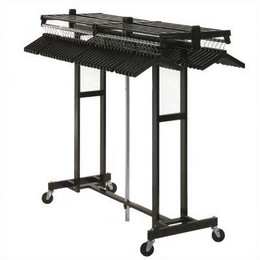 Saving Churches money on furnishings is our personal ministry. We're here to serve your Church and we hope you will privilege us with that opportunity.

– George Kreger, Founder of Church Furniture Partner
Pastor of New Hope Community Church
THE MR-611H IS NOW JUST $1095!
CALL 419-469-6411 FOR DETAILS & TO ORDER!
(Churches Only. Limited Time Pricing.)

Pastor owned and operated, Church Furniture Partner understands the needs of Churches and has a passion for providing top support furnishings at the best price anywhere. Our price on the Magnuson Group MR-611H Mega-Rak is the lowest possible (churches only). Give us a call at 419-469-6411 or fill out the form below and one of our staff will contact you to assist with your support furnishing needs for your Church. Don't worry, we do not use any high-pressured sales tactics.